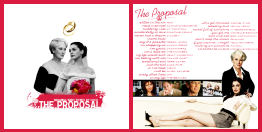 Because I make a playlist for every fic I write to help inspire me while I write. Here's the one that goes to The Proposal, hope you like it!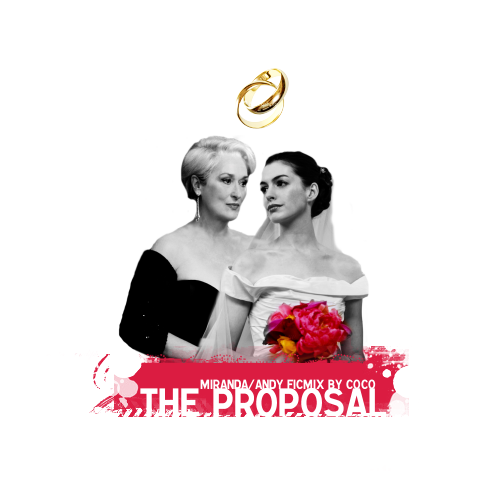 //
Click Here to Listen to the Mix ♥
Glitter in the Air // Pink


There you are, sitting in the garden
Clutching my coffee,
Calling me sugar
You called me sugar

Have you ever wished for an endless night?
Lassoed the moon and the stars and pulled that rope tight
Have you ever held your breathe and asked yourself will it ever get better than tonight?
Miranda realizing that she mistreats Andy but that Andy is always nice to her. Miranda realizing that she wants to be with Andy and she knows that it won't ever get any better than being with Andy.
Head Over Feet // Alanis Morissette


You've already won me over in spite of me
And don't be alarmed if I fall head over feet
Don't be surprised if I love you for all that you are
I couldn't help it
It's all your fault

Your love is thick and it swallowed me whole
You're so much braver than I gave you credit for
That's not lip service
They've both fallen for each other despite all odds, despite all the things about the other that they find annoying.
Suddenly I See // KT Tunstall


And she's looking at me
I can see her eyes looking from a page in a magazine
Oh she makes me feel like I could be a tower
A big strong tower
She got the power to be
The power to give
The power to see

Suddenly I see (Suddenly I see)
This is what I wanna be
Miranda suddenly realizing that Andy does so much for her and she realizes now how much she couldn't do without her. Miranda slowly learning a little bit of humility.
Accidentally in Love // Counting Crows


What's the problem I don't know
Well maybe I'm in love (love)
Think about it every time
I think about it
Can't stop thinking 'bout it

How much longer will it take to cure this
Just to cure it cause I can't ignore it if it's love (love)
Makes me wanna turn around and face me but I don't know nothing 'bout love
Let's face it? The last thing Miranda wanted was to get mixed up in another love affair, the last thing she wanted was to go through another awful, disgusting voice. But falling in love isn't really a choice...
Never Had a Dream Come True // S Club 7


I've never had a dream come true
Till the day that I found you
Even though I pretend that I've moved on
You'll always be my baby
I never found the words to say
You're the one I think about each day
And I know no matter where life takes me to
A part of me will always be with you
I'm throwing this one in here because it's going to be Andy's favorite song. I also forgot to put it in but I picked this song for Andy's favorite because I picked I Have a Dream by ABBA as Miranda's favorite song. So :)
Say It's Possible // Terra Naomi


Dont wait act now
This amazing offer wont last long
Its only a chance to pave the path were on
I know there are more exciting things to talk about
And in time well sort it out

And though they say its possible to me
I dont see how its probable
I see the course were on
Spinning farther from what i know
Ill hold on
Tell me that you wont let go
Andy already knows she has feelings for Miranda and she wants Miranda to say that they could possibly have a relationship. She wants what they're faking to be real.
No Stopping Us // Jason Mraz


Should I better not take it so personall if all the good loving is never received
Baby if it was me well I wouldn't think twice

No not i..
See its easy if you only try
We don't lie down on the job
Because once we hit the top there's no stopping us.

I will drive a thousand miles or I'll meet you at the station
If only you would take a vacation from this thing you have created
I promise to make it worth your while
Once they get together it'll be for forever, nothing could come between them.
I'm Yours // Jason Mraz


Well you've done done me and you bet I felt it
I tried to be chill but you're so hot that I melted
I fell right through the cracks
and now I'm trying to get back
Before the cool done run out
I'll be giving it my bestest
Nothing's going to stop me but divine intervention
I reckon its again my turn to win some or learn some

I won't hesitate no more, no more
It cannot wait, I'm yours
I just really like this one for the hot and cold imagery. Like, Miranda has silver hair and blue eyes and her persona is icy and, obviously, hot little Andy is just the ticket to melt her. I also just love this song for its catchiness and how it's about trying to stay cool when you're really into someone, trying to keep a level head... but failing.
I'm a Believer // The Monkees


I thought love was
Only true in fairy tales
Meant for someone else
But not for me
Love was out to get to me
That's the way it seems
Disappointment haunted
All my dreams

I thought love was
More or less a given thing
The more I gave the less
I got, oh yeah
What's the use in trying
All you get is pain
When I wanted sunshine
I got rain

And then I saw her face
Now I'm a believer
Not a trace
Of doubt in my mind
I'm in love
I'm a believer
I couldn't leave her
If I tried
I really don't think I need to explain why I chose this particular song...
My Life Would Suck Without You // Kelly Clarkson


I know that I've got issues
But you're pretty messed up too
Either way I found out
I'm nothing without you

Because we belong together now
Forever united here somehow
Yeah you got a piece of me
And honestly
My life would suck without you

Being with you is so dysfunctional
I really shouldn't miss you
But I can't let you go
Oh Yeah
It's not all flowers and rose petals, not with this pair, it is absolutely and completely dysfunctional but that's what makes it really great. Without each other life would be difficult and boring.
You Belong With Me // Taylor Swift


But she wears short skirts
I wear t-shirts
She's cheer captain
And I'm on the bleachers
Dreaming about the day
When you wake up and find
That what you're looking for
Has been here the whole time

If you could see
That I'm the one
Who understands you
Been here all along
So why can't you
See you belong with me
You belong with me.
Read this as "you wear short skirts, I wear t-shirts, you're cheer captain and I'm on the bleachers..." and you'll understand why I chose this song. Andy knows her better than anyone, she understands Miranda better than any of the men she'd chosen to date and really, they belong together.
Emotional Girl // Terri Clark


I've been looking at you looking me
Bet you're thinking that what you get
Is what you see
But underneath this cool exterior
A raging river flows
So before you get any nearer
I better let you know

I like music that's loud and lights down low
I like driving my car too fast
And dancing slow
Some folks may say I'm too extreme
'Cause I can't stop once I start
But I never could do anything
With half my heart
I'm a sucker for multi-faceted Miranda. I don't think enough people appreciate Miranda's emotional side. Miranda is more than the ice queen who rules Runway with an iron fist and Andy has a lot of fun -- and a lot of aggravation -- learning more about Miranda and her girls.
Just The Girl // Click Five


She's cold and she's cruel
But she knows what she's doin'
She pushed me in the pool
At our last school reunion
She laughs at my dreams
But I dream about her laughter
Strange as it seems
She's the one I'm after

cause she's bittersweet
She knocks me off of my feet
And I can't help myself
I don't want anyone else
She's a mystery
She's too much for me
But I keep comin' back for more
She's just the girl I'm lookin' for
Miranda's mean. Andy loves her anyway.
In Too Deep // Sum41


The faster we're falling,
We're stopping and stalling.
We're running in circles again
Just as things we're looking up
You said it wasn't good enough.
But still we're trying one more time.

Maybe we're just trying to hard.
When really it's closer than it is too far

Cause I'm in too deep, and I'm trying to keep,
All the thoughts in my head, instead of going under.
Miranda's in way over her head. She thought that asking Andy to be her fiancée would ensure that she wouldn't get too emotionally attached but it seems to have worked out exactly the opposite way.
I Will Be // Avril Lavigne


I thought that I had every thing I didn't know what life could bring
But now I see honestly
You're the one thing I got right
The only one I let inside
Now I can breathe 'cause you're here with me
And if I let you down I'll turn it all around
Cause I would never let you go

I will be all that you want and get my self together
Cause you keep me from falling apart
All my life I'll be with you forever
To get you through the day and make every thing OK
Miranda realizes what a douche she's been and how much she's taken Andy for granted. She realizes that she wants another chance to be the person that Andy deserves.
Every Other Time // LFO


Sometimes its black
Sometimes its white
Sometimes shes wrong
Sometimes im right
Sometimes we talk about it or we figure it out
But then she just changed her mind
Sometimes shes hot
Sometimes im cold
Sometimes my head wants to explode
But when i think about it im so in love with her
More of the same, refer to Just The Girl.
In My Life // The Beatles


There are places i'll remember
All my life though some have changed
Some forever not for better
Some have gone and some remain
All these places have their moments
With lovers and friends i still can recall
Some are dead and some are living
In my life i've loved them all

But of all these friends and lovers
There is no one compares with you
Miranda has been around the block a few times. She's been used and done a lot of using. She has a few ex-husbands to spare and she'd really like to get rid of Lucas. Of all the lovers she's had she never dreamed that Andy would be the one that was one who would mean the most to her.
Let's Get Married // Archie Star


The rain is coming down like oh cats and dogs
It's harder to see you, see through all the fog
I know you're there so I'm not scared
"Hey lets get crazy how bout' we just get married"
She said "Hey baby baby boy I've loved you from the day that we met, don't care what momma says or if we're ready just yet"
Cause this don't mean a thing if you're not next to me
You're who I want to wake up to every morning
A nice little song about getting married. Throwing caution to the wind and just doing it. Maybe they're not ready to get married, they should date first, really, but that would change the plot. Who cares what Andy's mother thinks about Miranda?
Bleeding Love // Leona Lewis


I didn't need the pain
Once or twice was enough
And it was all in vain
Time starts to pass
Before you know it you're frozen

But something happened
For the very first time with you
My heart melts into the ground
Found something true
And everyone's looking round
Thinking I'm going crazy

But I don't care what they say
I'm in love with you
A little bit of both of their perspectives in here. Because at first there's Miranda thinking about how she didn't want to fall in love again because she didn't even want to risk another disgusting divorce and drag her girls through another heartwrenching loss of stability... but then Andy was just different... Also, there's Andy because obviously no one can believe that she loves Miranda, people think she's nuts but she knows that she's seen the woman behind the iceburg.
Pocket Full of Sunshine // Natasha Beddingfield


I got pocket,
Got a pocket full of sunshine
I've got a love and I know that it's all mine
oh,oh,oh

Wish that you could,
but you ain't gonna own me
do anything you can to control me
Andy alone gets to see who Miranda is and it doesn't matter if everyone else in the world thinks it's crazy or fake or insincere because it's hers and she just loves her. Not even Miranda could change that.
You Get Me // Michelle Branch


Hey, you are on my side
And they, they just roll their eyes

You get me
When nobody understands
You come and take the chance, baby
You get me
You look inside my wild mind
Never knowing what you'll find
And still you want me all the time
Yeah, you do
Yeah, you get me

So what if I see the sunshine
In the pouring rain
Some people think I'm crazy
But you say it's okay
You've seen my secret garden
Where all of my flowers grow
No one in Miranda's life ever put in the same amount of effort to understand her. Miranda had gotten into a string of relationships that didn't work out because the other person was indifferent so she was indifferent and she just fell into a long suffering pattern. Suddenly, Andy is sympathizing and empathizing and... she gets it. She gets her. Which makes Miranda want to get Andy and as she does she finds herself falling in love...
Rock and Roll // Eric Hutchinson


Cause If she wants to rock she rocks
If she wants to roll she rolls
She can roll with the punches
Long as she feels like she's in control
If she wants to stay she stays
If she wants to go she goes
She doesn't care how she gets there
Long as she gets somewhere she knows oh no

And in a wink they're on the brink
From drink to drink and at the bar
With cash to blow
From shot to shot it's getting hot
Advance the plot to see how far
It's gonna go
I just have always thought of Miranda with this song. If she wants to rock, she rocks, if she wants to roll, she rolls. Miranda just gets what she wants. No questions. She figures out that she wants Miranda.
Don't Stop the Music // Rihanna


I gotta get my body moving
Shake the stress away
I wasn't looking for nobody when you looked my way
Possible candidate, yeah
Who knew
That you'd be up in here looking like you do
You're making staying over here, impossible
Baby, I must say your aura is incredible
If you don't have to go, don't

Do you know what you started?
I just came here to party
But now we're rocking on the dance floor, actin' naughty
Your hands around my waist
Just let the music play
We're hand in hand, chest to chest and now we're face to face
I chose this song for two reasons: one, the Mirandy reason: they weren't looking for love when they found it in each other. Two? DDR with the twins. All will become clear.
If You Wanna, I Might // Hellogoodbye


I've been assuming everything
Hoping you'll soon mean everything
I've gotta stay calm I want this to be real
I don't think you're into me
But truly that's okay with me
I've gotta stay calm and find out how you feel

So if you wanna say 'I-I-I like you'
I might feel just like you
If you choose-choose not to
I knew you-you would

Sometimes I think I am out of my league
And then sometimes I think I can dream
Sometimes I wish I could be the one fish
That you choose out of all in the sea
Obviously Andy doesn't think Miranda would return her feelings because for all she knows Miranda is completely straight. Hell, for all Miranda knew she was straight. But if Miranda wants to try, Andy might too... but neither of them want to be the first to say it. Therein lies the rub.
Walking on Sunshine // Aly & AJ


I used to think maybe you love me, I know that it's true
And I don't wanna spend all of my life just waiting for you (just waiting for you)
Now I don't want you back for the weekend, not back for a day, no, no, no
Baby I just want you back and I want you to stay

Walking on sunshine

I feel the love, I feel the love, I feel the love that's really real
Aw, when all the wrinkles are smoothed out and they realize the inevitable, they're in love and there is no other, it's just perfect and wonderful. Walking on sunshine, baby.
I'd Rather Be In Love // Michelle Branch


Turn out the lights now
To see is to believe
I just want you near me
I just want you here with me
And I'd give up everything only for you
It's the least that I could do

'Cause when there's you, I feel whole
And there's no better feeling in the world
But without you I'm alone
And I'd rather be in love with you
I thought this was such a sweet song and it really read as Miranda to me. Miranda realizes that Andy makes her feel differently than anyone else has ever made her feel. It's scary and nerve wracking but she'd rather be in love with Andy and be scared than be alone and be "safe."


(all the icons are made by me and are up for the taking with credit ♥)



♥♥♥Coco