I made this mix because having accompanying music helps me write and I was in a bit of a rut. But this definitely helped me, I hope you enjoy it!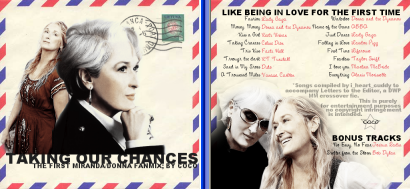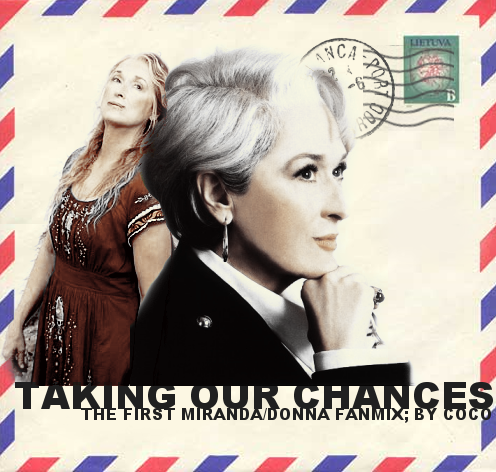 //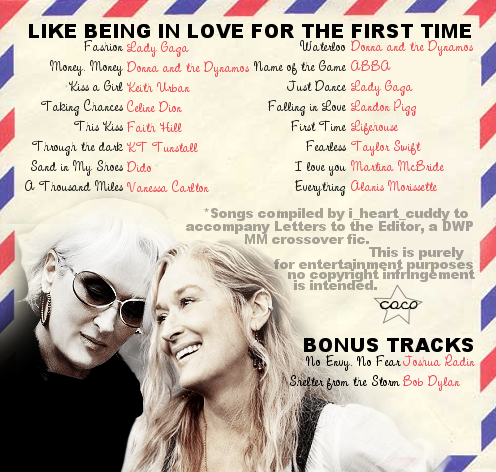 The descriptions of why I chose the songs are potentially spoilery for the story. Also, the songs are meant to be in chronological order.

Listen to the Playlist on Youtube

The story can be found by using my tag @
dvlwears_prada
Fashion // Lady Gaga


J'adore vivienne habillez-moi
Gucci, Fendi et Prada.
valentino, Armani too.
Merde I love them Jimmy Choo
Fashion put it all on me
Don't you want to see these clothes on me

I need, some new stilettos
Can't walk, down the street in those
You are, who you wear it's true
A girl's just as hot as the shoes she choose

J'adore Weitzman, habillez-moi
Louis, Dolce Gabbana, Alexander McQueen, eh ou.
Merde I love those Manolo
This is Miranda's song, it's her anthem about the fashion industry and the world she lives in.
Money, Money, Money // Donna and the Dynamos


I work all night, I work all day, to pay the bills I have to pay
Ain't it sad
And still there never seems to be a single penny left for me
That's too bad
In my dreams I have a plan
If I got me a wealthy man
I wouldn't have to work at all, I'd fool around and have a ball

A man like that is hard to find but I can't get him off my mind
Ain't it sad
And if he happens to be free I bet he wouldn't fancy me
That's too bad
So I must leave, I'll have to go
To Las Vegas or Monaco
And win a fortune in a game, my life will never be the same
Included because how could I not include a couple of Donna and the Dynamos, right? Also, I picked this one because it explains why I chose Las Vegas for their meeting. Also the thing where Donna wants to meet and marry a rich man. Right idea, wrong gender.
Kiss a Girl // Keith Urban


I wanna kiss a girl
I wanna hold her tight
Maybe make a little magic in the moonlight
Don't wanna go too far just to take it slow
But I shouldn't be lonely in this big old world
I wanna kiss a girl

'Cause, baby, tonight
It could turn into the rest of our lives.

(Are you ready)
To cross that line?
Put your lips on mine.
Put your lips on mine, baby.
Donna and Miranda are both lonely after a lot of heartbreak. But there's no reason to be lonely...
Taking Chances // Celine Dion


Don't know much about your life.
Don't know much about your world, but
Don't want to be alone tonight

I just want to start again,
And maybe you could show me how to try,
And maybe you could take me in,
Somewhere underneath your skin?
What do you say to taking chances,
What do you say to jumping off the edge?
I chose this song because Miranda's taking a chance with her reputation, they're both taking a chance with their hearts... cliché... maybe, but it's true. It's also important because these are two women who have some trust issues from being let down so many times.
This Kiss // Faith Hill


I don t want another heartbreak
I don t need another turn to cry
I don t want to learn the hard way
Baby, hello, oh, no, goodbye
But you got me like a rocket
Shooting straight across the sky

You can kiss me in the moonlight
On the rooftop under the sky, oh
You can kiss me with the windows open
While the rain comes pourin' inside, oh
Kiss me in sweet slow motion
Let's let everything slide
Reaffirming the sentiments that have been mentioned thus far. They've both been burned plenty of times. But they are definitely falling head over heels for each other, despite their differences.
Through the Dark // KT Tunstall


As I walk away
I look over my shoulder
To see what I'm leaving behind

Pieces of puzzles
And
Wishes on eyelashes fail

Oooooh!
How do I show all the love
Inside my heart

Well this is all new
And I'm feeling my way through the dark
I thought of this one for when they part company in Las Vegas. They both expected it to be a vacation fling but it became something that was difficult to walk away from.
Sand in My Shoes // Dido


I've still got sand in my shoes
And I can't shake the thought of you
I should get on, forget you
But why would I want to
I know we said goodbye
Anything else would've been confused but I wanna see you again

Tomorrow's back to work and down to sanity
should run a bath and then clear up the mess I made before I left here
Try to remind myself that I was happy here
Before I knew that I could get on the plane and fly away
Vacation is over and they both know that they should forget about each other. But it isn't that easy.
A Thousand Miles // Vanessa Carlton


Just making my way
Making a way
Through the crowd

And I need you
And I miss you
And now I wonder....

If I could fall
Into the sky
Do you think time
Would pass me by
'Cause you know I'd walk
A thousand miles
If I could
Just see you
Tonight
Emphasis on the physical distance between them. Miranda feeling like things have changed, the way she feels about everything has changed, she's feeling introspective and unsure about the things she'd always thought she could believe in.
Waterloo // Donna and the Dynamos


My my, I tried to hold you back but you were stronger
Oh yeah, and now it seems my only chance is giving up the fight
And how could I ever refuse
I feel like I win when I lose

Waterloo - I was defeated, you won the war
Waterloo - Promise to love you for ever more
Waterloo - Couldn't escape if I wanted to
Waterloo - Knowing my fate is to be with you
Another gratuitous insertion of a Donna and the Dynamos song. Miranda and Donna both have to admit that they were defeated by a stronger fate, that they can't shake the feelings that they have for each other.
Name of the Game // ABBA


I was an impossible case
No-one ever could reach me
But I think I can see in your face
Theres a lot you can teach me
So I wanna know......

And you make me talk
And you make me feel
And you make me show
What Im trying to conceal
If I trust in you, would you let me down?
Would you laugh at me, if I said I care for you?
Could you feel the same way too?
I chose this song because the lyrics seem to really capture how I imagine Miranda. She knows that Donna's kind, purely good heart has really made her feel differently. She wants her in her life and she likes the way Donna has made her more open in every way.
Just Dance // Lady Gaga


I love this record baby, but I can't see straight anymore.
Keep it cool what's the name of this club?
I can't remember but it's alright, alright.

Just dance. Gonna be okay.
Da-doo-doo-doo
Just dance. Spin that record babe.
Da-doo-doo-doo
Just dance. Gonna be okay.
Duh-duh-duh-duh
Dance. Dance. Dance. Just dance.

Just for kicks. It was because of this song that I thought of the dancing when they were at the party in Milan. Donna to Miranda, telling her to just dance, it's fun, there's no need to complicate things. Just dance.
Falling In Love // Landon Pigg


I think that possibly
Maybe I'm falling for you
Yes
There's a chance that I've fallen quite hard over you

I've seen the paths that your eyes wander down
I want to come too

I think that possibly
Maybe I'm falling for you

No one understands me quite like you do
Through all of the shadowy corners of me
Sweet and sentimental. Donna and Miranda are realizing that they have real feelings for each other. They are also realizing that they really understand each other and it's a very real sort of love because it's very honest.
First Time // Lifehouse


Looking at you,holding my breath,
For once in my life,I'm scared to death,
I'm taking a chance,letting you inside.

Feeling alive all over again,
As deep as the sky, under my skin
Like being in love, she says
For the first time
Maybe I'm wrong,
But I'm feeling right where I belong
With you tonight
Like being in love
To feel for the first time
More mention of taking chances, anyone else sensing a theme? Donna is really the first person who challenged Miranda in a romantic way (because canon already established Andy as a challenging employee ;]). She's not fake or selfish, she doesn't have a hidden agenda, she's not interested in her because she's famous. And because it's the first really honest love of Miranda's life it feels like the first real love. For Donna their love is the first of her adulthood, she went into it with her eyes open and without any youthfully unrealistic expectations.
Fearless // Taylor Swift


We're drivin' down the road
I wonder if you know
I'm tryin' so hard not to get caught up now
But you're just so cool
Run your hands through your hair
Absent mindedly makin' me want you

And I don't know how it gets better than this
You take my hand and drag me head first
Fearless
And I don't know why but with you I'd dance in a storm in my best dress
Fearless
Giving in to all the feelings, acknowledging that their relationship is one of the best things that had ever happened to them and they don't have any more fears surrounding it.
I Love You // Martina McBride


I can t believe
That this is real
The way I feel
Baby I ve gone head over heels

And I m in
So totally wrapped up
Emotionally attracted
So physically active
So recklessly I need you
So desperately sure as the sky is blue
Head over heels. They'd both thought of themselves as really level headed women who don't easily get wrapped up in emotions but their relationship definitely broke down those beliefs. They need each other. They love each other. Period.
Everything // Alanis Morissette


I can be an asshole of the grandest kind
I can withhold like it's going out of style
I can be the moodiest baby and you've never met anyone
Who is as negative as I am sometimes

I blame everyone else, not my own partaking
My passive-aggressiveness can be devastating
I'm terrified and mistrusting
And you've never met anyone as,
As closed down as I am sometimes.

You see everything, you see every part
You see all my light and you love my dark
You dig everything of which I'm ashamed
There's not anything to which you can't relate
And you're still here
These lyrics make me think of Miranda. A lot. She sees herself as an asshole, a ruthless cunning bitch. She's played the part and been told it for so long that she really kind of believes she's unloveable. And she's in awe that Donna loves her anyway and that Donna can relate to the way she feels because she sees Donna as such a warm, caring, loving person, which is the opposite of how people view her. Maybe Donna sees a different Miranda. (Or maybe the real Miranda?)
No Envy, No Fear // Joshua Radin


When your sister turns to leave
Only when she's most in need
Take away the cause of pain
By showing her we're all the same

Have no envy and no fear
Have no envy and no fear

Every day we try to find
Search our hearts and our minds
The place we used to call our home
Can't be found when we're alone
This is a bonus song because I really had the Serena/Emily storyline in mind when I added this to the mix but I also think it works for Miranda/Donna. I like it because it talks about having to give up your fear and your envy to find what you need, what you're looking for. You can't hold onto your fear and still be happy.
Shelter from the Storm // Bob Dylan


Suddenly I turned around and she was standing there
With silver bracelets on her wrists and flowers in her hair
She walked up to me so gracefully and took my crown of thorns
"Come in" she said
"I'll give you shelter from the storm".

Now there's a wall between us something there's been lost
I took too much for granted got my signals crossed
Just to think that it all began on a long-forgotten morn
"Come in" she said
"I'll give you shelter from the storm".
Another bonus song because it is for the whole cast of characters. They all have trouble really letting people in but they often forget that there is always shelter from the storm in a loving friend or a lover. Someone is always there for you. Andy and Miranda as friends, Emily and Nigel as friends. Two sets of people that became friends in a time of need.