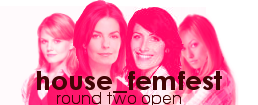 Hello everyone! It's time for round two of the fandom's femslashiest fic fest!
Prompt submission is open from now until January 15th
. Come on over and join and participate to ensure a good, fun time for round two! Let's give the undervalued (and sexy) women of House their due!
♥
house_femfest